Trade In
Gap is partnering with thredUP to allow customers to turn their gently used clothes into Gap shopping credit.
• Visit our Trade In page to print out a digital label for use on any box, envelope, or bag.
• Have a Clean Out Kit from a store or online purchase? Be sure to activate it here. Click "Activate a Kit" and you'll be redirected to an activation page. Provide your existing Gap account email to help avoid delays in receiving your credit from Gap. Type in your activation code (bag number) or the tracking number for your kit on the activation page. You'll receive an email confirmation once your kit is activated.
Please email us at gap@thredup.com with your bag number or kit tracking number and we'll activate the kit for you.
Drop your package off at any USPS or FedEx location.
You can send in gently used women's and kids' clothing, handbags, shoes, and accessories from any brand.
All items should:
• Be clean.
• Have limited signs of wear, including pilling, fading and shrinkage.
• Have no damage, such as missing parts, rips, stains or odors.
•Have no alterations, including cut off labels or missing size information.
Please note: Only 50% of the items in the average Clean Out Kit meet thredUP's quality standards.
Together with their partners, thredUP is committed to returning as many items as possible back into the circular economy and keeping them out of landfills. Pieces that are in good shape, but don't meet thredUP's quality standards, are evaluated for inclusion in thredUP's Rescue program. Items that don't qualify for listing or Rescue Boxes are reused or responsibly recycled by thredUP's vetted network of textile recycling and reuse partners.
Cleaning out your closet and reselling unwanted items keeps clothing in use and out of landfill. Shopping secondhand conserves resources by avoiding new clothing production, reducing carbon emissions, and energy and water consumption.
Buying (and wearing!) secondhand clothing instead of new reduces carbon emissions by an average of 25% (Green Story Inc.). thredUP's Resale-as-a-Service (RaaS) platform is enabling resale at scale for some of the world's largest retailers and brands.
By working together, thredUP and our partner brands can reach more consumers and recirculate more clothing to make an even greater positive impact on the planet.
Yes. We will keep you updated every step of the way via email. You will receive notifications when we receive your bag, when your items are processed, and when you receive credit in your Gap account.
Once you've dropped off your kit to USPS or FedEx, delivery to thredUP can take up to three weeks. After it is received, it will take up to four weeks to process.
There's no charge for physical Clean Out Kits or digital labels and both are free to return.
The pricing of your listed items is based on various factors, including brand, style, condition, size, and overall salability. Consignment payouts are calculated as a percentage of the final selling price of the item based on our payout structure (see table below). If you choose Return Assurance, those fees will be automatically deducted from any earnings. With a Gap Clean Out Kit, you'll also earn an extra 15% bonus on your payout!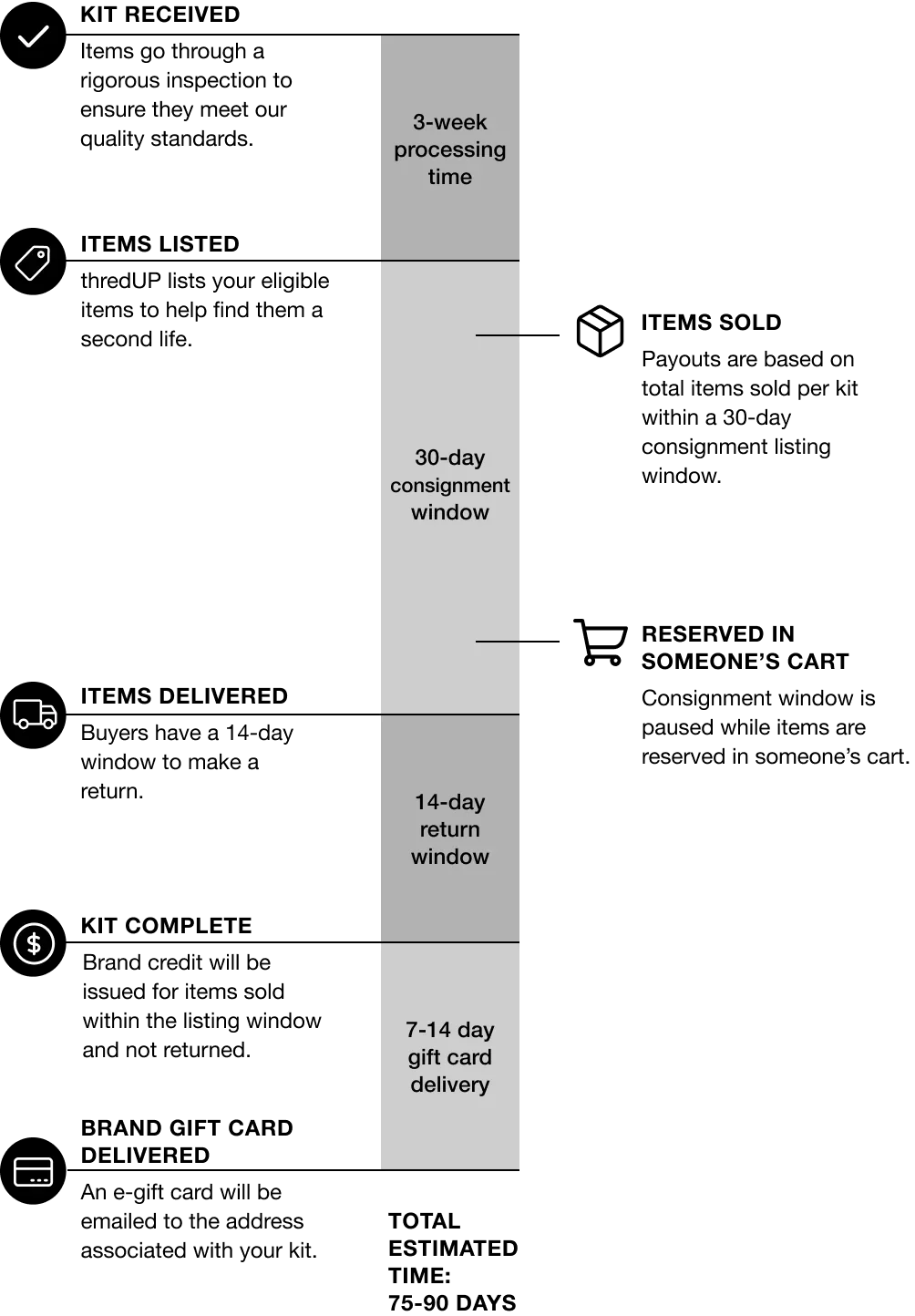 Gap credit is store credit and can be used to purchase any items in store or online at gap.com. There is no time period in which you have to spend your Gap credit as it has no expiration date.
Each item has a 14-day return window. If your item is returned, it will be relisted and continue its consignment window. You will be paid out after the item sells if it is not returned for the second time.
If you would like any of your items returned to you, please contact gap@thredup.com and we can start the reclaim process. There is a small shipping fee for reclaimed items. Here's how to get the most of your next Clean Out experience: Send in popular brands our thrifters know and love. Ensure items are in excellent condition. Only send clean and freshly laundered items. Don't send items from our banned categories list.
Contact
Reach out to us at gap@thredup.com. Please note that all Gap x thredUP customer service questions will be handled via this email.
thredUP is transforming resale with technology and a mission to inspire a new generation of consumers to think secondhand first. By making it easy to buy and sell secondhand, thredUP has become one of the world's largest resale platforms for women's and kids' apparel, shoes, and accessories.